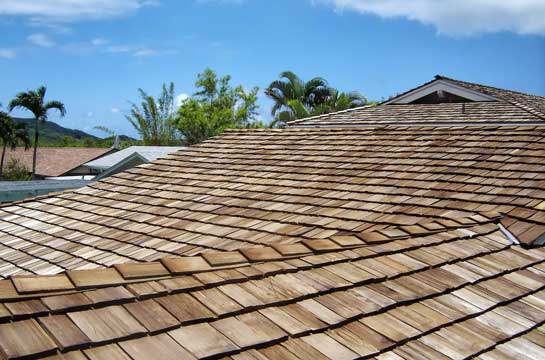 We are a full service, licensed residential and commercial roofing and waterproofing company based in Hawaii.  As such we have the expertise to consult with you, build or maintain any level of roofing project you need or desire.
If you are interested in a new roof or repair, we can provide any type of roof material from asphalt shingles, wood shake, clay tiles and any others.  See the full list of our services and roofing types at right.
A few of our most popular offerings are storm damage repair or re-roofing, maintenance, and cool roofs.
Storm Damage Repair or Re-Roof

Hawaii receives high wind activity on a regular basis, and many folks don't realize that missing shingles and different types of roof damage may not be evident from the ground or street. We are specialists in roofing and waterproofing in helping folks through this process.  Contact us for a free roof inspection or read our Storm and Wind Damage page to learn more.
Cool Roofs
By applying a white elastomeric coating system (the "cool roof"), the roof temperature can be reduced by as much as half the temperature on a dark roof, resulting in a much cooler interior and difference you can feel.  If your home or building is air conditioned, a cool roof will lower your electric bill.

Cool roofs also save you money because it is a renewable system.  When applied over a sound roofing system you can add a coat every 10-15 years, avoiding the cost of tearing off and completely replacing with a new roof.  Cool roofs also help the environment by reflecting heat, thereby reducing the "heat island" effect we see in urban areas.
Maintenance
Many roofs and deck coatings may not need to be replaced if a small problem is caught in time and proper maintenance is done.  All roofs should be checked after any major storm or prolonged high winds.
Having a maintenance contract with us could save you a lot of money over the life of your roof.
We do it all!
Here is the full range of roofing services we can help you with:
Asphalt Shingles
Wood Shake
Clay Tile
Concrete Tile
Slate
Metal Roofing
Modified Bitumen
Repairs
Single Ply
Elastomeric Roof Coatings
Elastomeric Wall Coatings
Deck Coatings
Traffic Coatings
Waterproofing
Below Grade Waterproofing
Maintenance