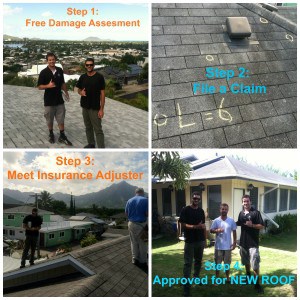 On March 9, 2012, a lot of homes on the windward side of Oahu were damaged by freak hail and heavy wind and rain. At 5:45am, golf ball sized hail slammed down out of the sky in some places — damaging plants, cars, and a lot of roofs. Significant damage was caused by the hail stones that fell for between 30 and 45 minutes, causing millions of dollars worth of damage to local homeowners.
Homeowners who had insurance that found sufficient roof damages were able to file a claim on roof damages and the cost of replacing or repairing the roof was covered by the insurance company (minus their deductible). The insurance adjuster is the one who makes the decision and approves the claim.
Preventative things you can do prior to a storm
Clean or have a professional clean all roof gutters.
Prune tree limbs that are along or very close to the roof.
Make sure any roof equipment such solar panels or skylights are secure.
Do you or someone you know need expert advice on roofing and waterproofing… Call Roofworks Hawaii!
How does getting a proposal work?
STEP 1: SETUP APPOINTMENT
Call Roofworks Hawaii to schedule an appointment for us to stop by for a free roof inspection. This will take about 15 minutes and like I said, it's completely free. If roof damages are found, we can help you through providing a free estimate.
STEP 2: WE PROVIDE A ROOFING OR WATERPROOFING ESTIMATE
Our company will provide a free  roofing and waterproofing estimate or option on different types of roofing and waterproofing materials. We make sure you have professional roofing and waterproofing support. You can be present for the inspection if you want, but it is not necessary, we can handle the roof inspection.
STEP 3: ACCEPTANCE OF ROOFING PROPOSALS
Your insurance company makes the decision to approve your claim or not. If your claim is denied there is no cost, and we will provide a professional roofing or waterproofing estimate.
STEP 4: INSTALL NEW ROOF 
Once you have accepted the roofing or waterproofing proposal and have signed both the proposal and contractual documents, like the state of Hawaii required disclosure of lien rights, we will submit for your approval roofing types, color, and options, such as solar attic fans or ridge vents to create passive air flow in the attic space. After you select the roofing color, style and any options, we will provide a start and completion date along with what you may need to prepare for inside or outside the dwelling for protection or controlled access.